Butterflies are known for their beauty, the beauty of nature. The world of butterflies is also strange. Their love for flowers is everlasting. They play an important role in biodiversity and ecological balance. Butterflies are generally familiar to everyone. But no one pays much attention to it, except for children. But that too is very limited. But nowadays, it can be a subject of hobbies, studies and research. Many wildlife lover, butterfly lovers and researchers have flocked to the study of butterflies. Isaac Kehimkar, Krushnamegh Kunte, Meena Haribal, Meenakshi Venkataraman, V.P.Uniyal & many more are currently the leading butterfly researchers in India.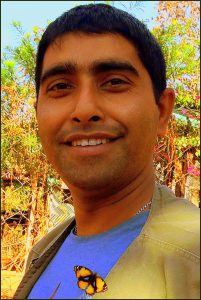 The butterfly is a type of insect. The science of studying them is called Entomology. Butterflies belong to the order 'Lapidoptera'. Today, the number of known insects in the world is one hundred and fifty thousand, of which there are 17,824 butterflies in the world. According to recent statistics, there are 1,505 butterflies in India. Total 277 species of butterflies are found in Maharashtra. There are six families of butterflies named as Papillionidae, Nymphalidae, Lycaenidae, Pieridae, Hesperidae and Riodinidae. There are 185 species of butterflies in Vidarbha region and 127 species in Melghat. If you observe Melghat, Tadoba, Pench and other forest areas, you will definitely see 20 to 25 species of butterflies in one visit. Since butterflies are important in the food chain, their existence is a symbol of a clean environment. Himalaya, Sahyadri and Satpuda and its environs are rich in butterflies. We can see many rare as well as other butterflies in large numbers there. It is noteworthy that the state of Maharashtra has declared its state butterfly for the first time in India. The Blue Mormon is Maharashtra's  state butterfly. Then after Commmon Peacock of Uttarakhand, Southern Birdwing of Karnataka, Malabar Banded Peacock or Budha Butterfly of Kerala and Tamil Yaoman of Tamil Nadu declared their state butterflies.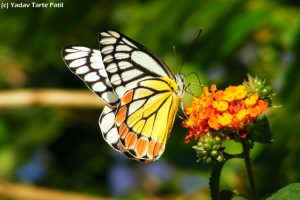 The Sahyandri and Satpuda mountain areas are rich in flowers and other flora and fauna. This is because the main base of butterflies is plants. They feed on the same plant and take in the sweetness of their growing flowers. These are their main sources of energy. The period from July to November is generally considered favorable for butterflies and their observation. Because during this time we were able to see some of the best species and rare butterflies. The number of butterflies during this period is also the highest density. As summer begins, their numbers are affected. In summer, many butterfly cells are dormant. So the number of butterflies seems to be low.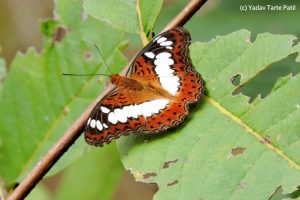 The hobby of butterfly watching is as enjoyable as bird watching. It reveals many mysteries. Observing a gem of such a magnificent treasure of nature gives us immense pleasure. In this article series, 'My friend Butterfly', let's get to know about butterflies, let's make friendship with tiny creature of nature.! Thank you
@ Yadav Tarte Patil
Member – State board for Wildlife, Government of Maharashtra
Mobile – 9730900500
Email – disha.wildlife@gmail.com